I've been hard at work the past couple of days making some updates for Cyber Nations Tournament Edition Round 26. One of the things that a lot of players have asked for is the ability to create alliance announcements, which has now been implemented. I included the ability for alliance members to post comments on an announcement as well as the ability for managers to lock down who can view an announcement and who can post comments.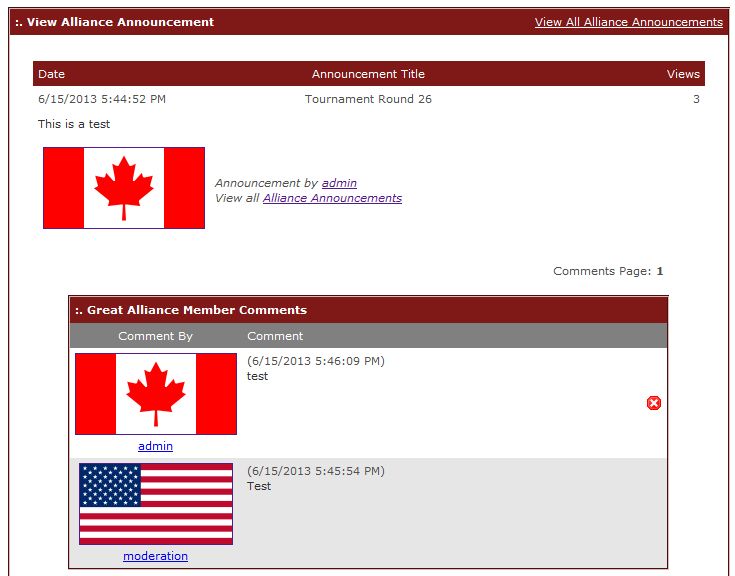 Another thing that was asked for were improvements to Navy. Now if your nation has 250 miles of land OR a harbor then it can be blockaded and the blockade amount has been increased from a random of 1%-5% to 1%-10%. There were additional requests regarding navy, but I want to see how these settings works out for Round 26 before making further enhancements. The purchase cost of Navy has also been reduced.
Another asked for and implemented item was to include casualties in the tournament round prizes. Some said that since everyone in the top 10 got to upload a custom flag that it resulted in a lack-luster finish of Round 25, so I decided to give the top reward in Round 26 to the two players involved in the most destructive war. This means that the game needs to track the most destructive war, which means that the Awards System in standard edition has now been implemented in tournament edition. Also included in the prizes are most attacking and most defending casualties.
Update 6/17/2013: The surprise update is finalized. Military Generals have been added to the game. Generals can be recruited and assigned to one of four posts in your military. The positions include generals of the Army, Navy, Air Force, and Intelligence. Recruiting generals offers a variety of benefits to your nation including increases to battle strength calculations, unit purchase and upkeep cost reductions, and due to the enormous prestige that generals carry some may offer increases to your population happiness, citizen income, and even boosts to your population itself. As you conduct battles and special operations in the field against other nations you will gain experience points (XP) that will enable you to recruit higher ranking generals who will in turn provide greater benefits to your nation. For each ground battle, aircraft attack, naval attack, etc... you will gain +1 experience point in that field (nuclear attacks gain +5 experience points for Air Force). There are a multitude of NPC (non-playable character) generals available for you to choose from and upon recruiting a general you may change their name, assign them a custom title, and if you don't like the avatar image provided for them then simply click on the image to cycle through a different avatar.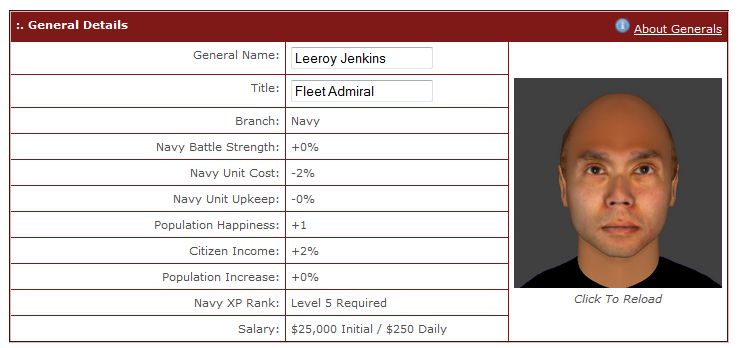 Tournament Round 26 will begin shortly.