Day 4: SL x Kaskus, AB/Arg/GLoF/ML/TPF/NX/Snk/TDT/TORN/ x TOP, Ava/CRAP/Fark/GOD/Inv/Legion/LSF/MCXA/MHA/NADC/NPL/NpO/R&R/RIA/Rok/Sparta/TTK/ xINT/ODN
---
Day 4: SL declares on Kaskus, AB, Arg, GLoF, ML, TPF, NX, Snk, TDT, and TORN declare on TOP, Ava, CRAP, Fark, GOD, Inv, Legion, LSF, MCXA, MHA, NADC, NPL, NpO, R&R, RIA, Rok, Sparta, and TTK declare on INT and ODN, and, DBD, and NEW declare on INT
Summer War 2012 Topics:
A Shangri-La Announcement (SL declares on Kaskus)
A joint announcement (AB, Arg, GLoF, ML, TPF, NX, Snk, TDT, and TORN declare on TOP)
Just an ordinary DoW (Ava, CRAP, Fark, GOD, Inv, Legion, LSF, MCXA, MHA, NADC, NPL, NpO, R&R, RIA, Rok, Sparta, and TTK declare on INT and ODN)
Operasi Celurit (DBD, and NEW declare on INT)
Current Web: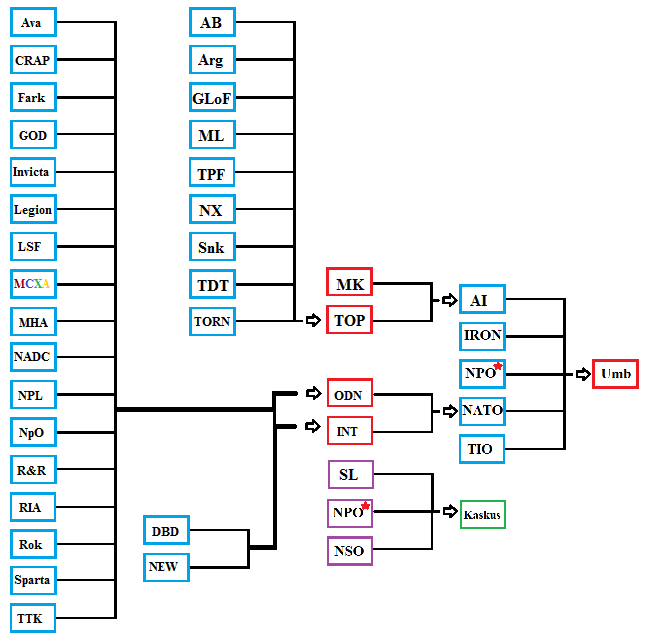 Blue vs. Red ~ Equilibrium Front
Purple vs. Green ~ NPO/NSO - Kaskus Front
~
Holy Jebus good thing I waited. Updates will be taking place in the morning now since I have finals. Tell me if I missed anyone. Pretty sure I did.