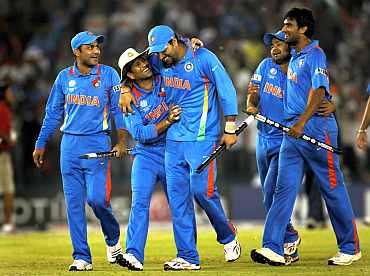 In the minds of many, the one real battle in the world cup. Inspite of a stellar performance by Wahab Raza. The lads in green lose to the blue boys.
Celebrations like you have never seen outside of a India-Pakistan cricket match, also equal scale in national mourning on the other side.
Regardless of what happens in the finals, in the mind of the average Indian, the cup was won on 29th March 2011. A fact : TV for the Indo-Pak semifinal were more expensive than those for the final. The streets were empty all day, and offices had declared half-working day just so people could catch this match on the telly. Record sales of beer the day before and take-away and home delivery restaurants being swamped with orders all day.
The Little Master was at it again
Now for the Srilankans in two days time.
PS: I am sure my wearing of my lucky hat while i watched the match on the telly helped. And the lucky brass knucks too.
edit: There was a 29000 seating capacity in the stadium and it was all sold out and jam-packed.