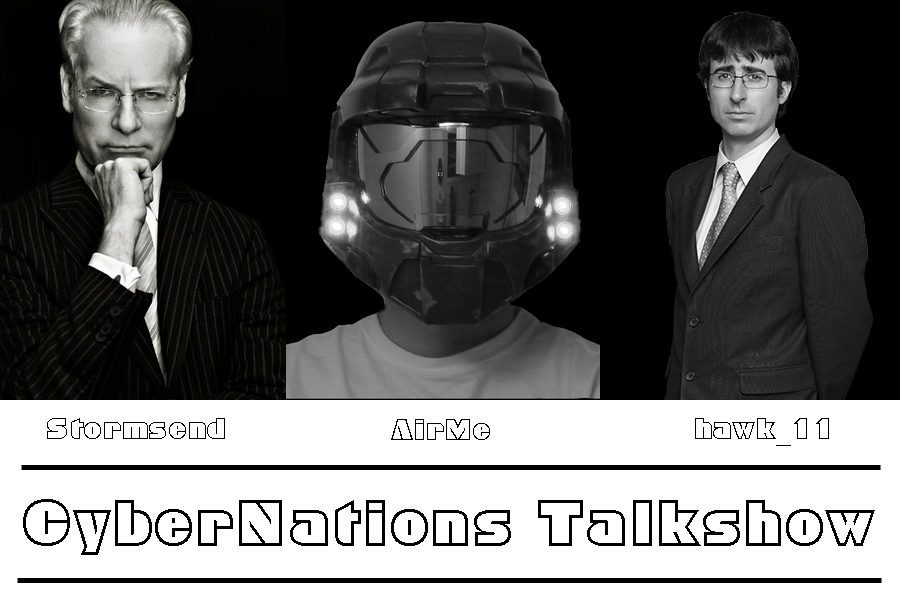 Holy God, you're listening to us with your eyes.
This is the official blog of the CyberNations Talkshow, featuring AirMe, hawk_11 and myself. Because schedules conflict and you guys are impatient, not to mention how boring things are right now, we're going to comment on things going on in-game so you guys don't have to wallow in the Alliance Affairs forum too often. Check back frequently, because you never know when one of us will be riled up enough to post something.
We are always on the lookout for good news items to comment on, so if you come across something we haven't covered, send me a PM here or query me on IRC (nick: Stormsend|MK). We are also on the lookout for editorial cartoonists, if you are a skilled artist or have some experience making propaganda for your alliance. Again, you can contact me using the above contact info to submit an image. You may also "sign" your image, if you like, though we will give you credit, regardless. As an added note, not all images will be posted to the blog. We (hawk_11, AirMe and myself) will determine which image gets posted and when. Do NOT flood any of our inboxes or queries with angry messages about how we did not show your contribution to this blog.
At this time, however, we are not accepting written contributions to the blog nor are we seeking anyone to help host the show. The shows will only feature the three of us and, occasionally, a special guest relevant to current events.
Please, come by often, and feel free to give us some feedback in the comments section of the posts.
Hugs and kisses,
Stormsend
edit: hi