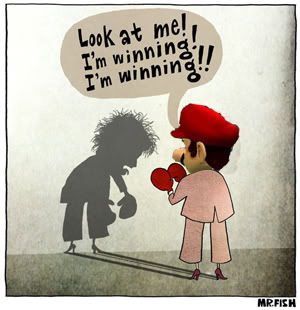 This article is best read while listening to the Karma activist's new anthem.
Selling the Status Quo
"It's better than another treaty announcement thread." So goes out the call of Karma's epigones, characteristically blind to the fact that, far from highlighting the positive aspects of their thread, they condemn the entire state of world politics that they have constructed. So slow, so mundane, so controlled have things become that we are expected to drop on all fours and lick up the crumbs benevolently thrown our way, thanking them for constructing a system where this can genuinely be portrayed as the best we could ever hope for. But only in the most short-sighted and brow-beaten individual, an individual who has become so psychologically dependent on the existing structure of power that they cannot even imagine the slightest systemic change, only they could hold such an excuse in anything but the highest disdain.
Our degeneration to this point has become abundantly clear over the past few weeks, as the Mushroom Kingdom carelessly thrashes about in a vain attempt to live up to their former reputation as an 'unconventional' and 'fun' alliance, rather than a status quo power incapable of anything beyond perpetuating what already is. Unfortunately for them their thrashing about only betrays their complete misunderstanding what politics actually is -- the struggle for power. With the global structure ossified to the extent that it is seen as somehow natural they instead begin to tinker around the margins, deeming that doing anything, no matter how contrived or irrelevant, must make them appear once more as the exciting alliance shaking things up.
As a result we see them more and more targeting peripheral alliances of minor political importance. They will threaten NSO and express bewilderment when people roll their eyes, then attempt to deflect attention onto the 'evil' NPO and be shocked by a response of yawns and slow head-shakes. But even were they to attack NSO or NPO, what would change on the political scene? They are not challenging a centre of political power, nor risking any of their own in the process. These moves can never be more than an attempt at bread and circuses to the disenfranchised masses, and thus while they are doing something, they are not really doing anything.
Grasping at Air
This is the mistake that we see so many of the big players make today. Their minds continue to exist in a past where there is MK's side and a competing 'other'. As a result they continue to see the political interplay as being between the strength of their side and a revisionist power that they can attack and engage in political games with.
The concern begins to develop when they realise that despite all their fighting they are left feeling empty, the contentment they remembered from days long past and sought to recapture evading them as grasp and catch only air. The simple explanation for this is that there is no 'other' in any meaningful sense of the word. There is no potential political or military challenge, and thus any attack on perceived others means nothing -- there is no political risk and no political victory, only a continuing emptiness as the the form of politics goes through the motions without any of the substance. The only possible outcome from this shadow of what was once politics can be a feeling of 'what has any of this actually meant?'
And so the search for politics continues in vain, as those capable of creating it continue to box at shadows, either too blind or too fearful to challenge any of the real pillars of power -- to risk a loss and chase a meaningful win. And this is where we sit, in an apolitical abyss strangled free of oxygen while we bow down in thanks for the poisonous carbon monoxide provided in its place. It's better than boring old carbon dioxide, after all.