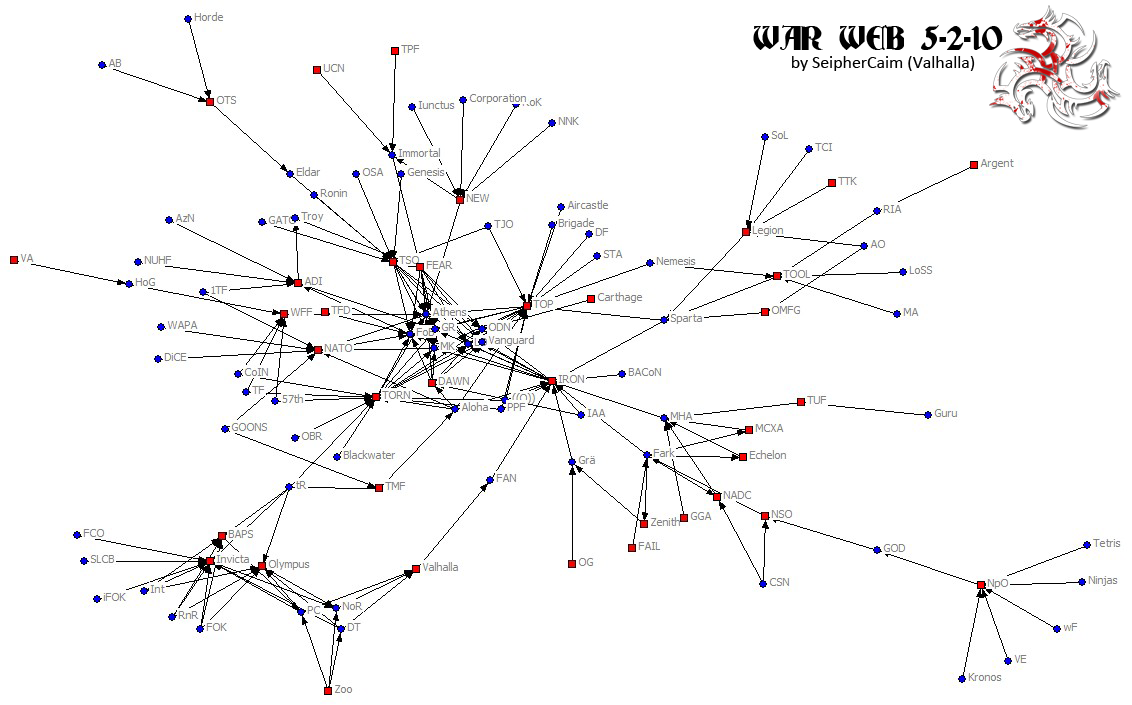 I'm Back !
I saw very good updates of the web of war in the last few days (hat tip to Jerichoholic) and now that it begins to get complicated, I fell compelled to add my own map.
Why such a pride to show what I do with my free time ? I feel that our 2 maps do not show the same thing. Jericho's map is much more beatiful and allow to see coalition. Mine, imho, is more appropriate to get the front and counter attack dimension (since the mapping feature I use put the alliances at war at equal distance).
So, sorry for those who think it's an overlapping post but hey, we, stat/map lovers enjoy it very much when there is plenty of graph to look at !
Now, some commentaries:
- There are now 109 alliances at war (I may have forgotten some very minor AA). 37 on the TOP/IRON side, 72 on the Supergrievances side... (and I count 182 DoW)
- Personally, I was very interested on the "Purple Curbstomp" (as those who declared today have labelled it, classy). And yeah, it seems it's a real dogpile here...
Valhalla declared 1 war, was declared on by 3 alliances
BAPS declared 1 war, was declared on by 4 alliances
Olympus declared 1 war, was declared on by 6 alliances
Legion declared 1 war, was declared on by 5 alliances
Invicta declared 1 war, was declared on by 9 alliances
So, 5 Dow for POSEIDON.. countered by 27 DoWs... Good to be that much loved...
- Some fronts and alliances have been avoided by counter-attackers (Grä
)
- It gets bigger and bigger... waiting for the first surrender terms to be accepted...
Update: I just saw Asgaard is not included... it will be in the next update of the map.. if there is one...