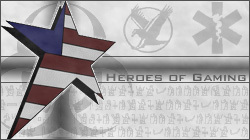 Heroes of Gaming Announcement
As of this post, the alliance HeroesofGaming, hereby referred to as "HoG", is officially merging into Menotah under the following terms:
1) All members of the former body of HoG, while they may have to fill out an application, they will be inducted into Menotah without question if they so choose to join.
2) All former HoG members inducted into Menotah have any and all rights a regular nation within Menotah has.
3) danizduhman will be granted the title of Hero of Menotah. This position has no real power, and has no real authority. This is a ceremonial position and an advisory position, to please the large ego of danizduhman.
4) danizduhman will be added into the Tech Circles of Menotah so that he may buy tech.
5) That is all.
Basically, CG deleted, I don't have time to step up and run an alliance anymore, and Joey and I go way back. I trust him to make the best decisions for the former HoG nations. In total HoG has been around in one form or another since 2007. We've had a great run, and lots of memories. (We never forgot you UPAC! Or our time in CDT)
Thanks go out to CG for making my time in CN awesome and making HoG, and all the friends, allies, and enemies too, that made the HoG experience awesome. See you on the other side.
/s/
danizduhman