The governments of Athens and the Heroes of Gaming have been treatied to one other in one way or another for the past 2 to 3 years and the friendship we share with one another still remains strong. The Revolution and Element shared a MDoAP, The Heroes of the Union and Element shared a PIAT, and most recently, the MDoAP shared between Athens and The Dark Evolution.
This time, we have decided to take it slow and start off with this lovely Optional Defence Pact. Without further adieu, Here it is.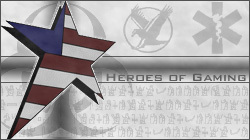 A Joint Announcement from Athens and the Heroes of Gaming
Welcome to Mexico

This treaty is intended to foster good relations between the alliances of The Heroes of the Union Athens and The Element HeroesOfGaming, both signatory alliances agree to the following terms:

I: Non-Aggression
Both alliances agree to at no point attack the other. If one member of either alliance attacks the other then that alliance is required to inform the other by diplomatic means. The nation that attacked is required to pay reparations for at least 100% of the damages. In the event that one alliance refuses to have the nation pay reparations and stop attacking, it is grounds for the immediate cancellation of this treaty.

II: Aid
At any time either alliance may request monetary aid from the other alliance with a reason for aid, if the other alliance deems it a worthy cause then they may provide aid. They are not required to provide aid but they are strongly encouraged to do so.

III: Intelligence
If any member of either country discovers information that the other country is in any kind of danger then the former is obligated to inform the government of the latter as soon as possible by any means.

IV: Defense
In the event that one alliance is attacked then they may ask for help from the other alliance to come to their defense. They are not required to help but are strongly recommended to do so.
In the event that one alliance is going to declare war on another they are required to inform the other of their intentions. The alliance then has the option of also declaring war along with the other alliance but they are not required to do so in any way.

V: Cancellation.
In the event that one alliance wishes to cancel this treaty then they must give 72 hours official notice to the leaders of the other alliance before it is canceled.

Signed:

For Heroes Of the Union
High Council:
Crunchy Death
Panzer92
Dillpickle
Captain Walker
KyeD93

For Athens,

Londo Mollari, Archon eponymos
Max Beck, Archon eponymos
rsoxbronco1, Archon basileus
HavoK, Archon basileus
Jgoods45, Theorodokos

For The Element
Triumverates:
Coolgreen44
danizduhman
Ryan Reyes

For HeroesOfGaming,

JOESSE, Brady Quinn
COOLGREEN44, Jerome Harrison
FFFANATICX, Robert Royal
DANIZDUHMAN, Mohamed Massaquoi
EXPS HOG, Mike Furrey
RUSTORIA, Kenyon Coleman
GAWZ_ONE, Kamerion Wimbley
Edited by Jgoods45, 15 December 2009 - 01:59 AM.