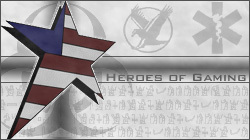 Hunter steps up to the podium.
Gah! Why can't they ever get the flags to be the same size! WHAT IS THIS NONSENSE?! UGH!!!
Hunter starts to storm off stage but is stopped by the stage director.... Some infuriated whispering occurs ending with Hunter walking back up to the podium.
Well you can't win all the battles. Esteemed CNers, I am here to proudly announce the upgrade of the HeroesOfGaming/LoSS Protectorate Treaty to a Mutual Defense and Optional Aggression Treaty! Without further ado, here is the text of the Arcade Accords!
The Arcade Accords - MDoAP Treaty


Preamble
In the mutual interest of fellowship and brotherhood, the HeroesOfGaming and League of Small Superpowers commit to the following accords.

Article I. Friendship
Signatories agree to treat each other with respect and support in all matters, be it moral, financial or political.

Article II. Non-Aggression
Both signatories agree never to attack the other, whether it be via in-game warfare, spy operations, or flaming on public boards.

Article III. Mutual Defense
In the case that either party is engaged in a defensive war or their sovereignty is infringed. It will be considered an attack on the sovereignty of the other signatory. The remaining signatory will provide appropriate support be it aid, military or diplomatic support.

Article IV. Optional Aggression
If one signatory finds itself necessary to engage in aggressive warfare they may request the other signatory to aid them. The remaining signatory has casus belli to enter the same conflict on the same target.

Article V. Termination
In the case that ether signatory wishes to end this treaty, a 72 hour notification period must be provided in which Articles II and III must be upheld.

Signed for the HeroesOfGaming

Joesse, Ed Deline
Coolgreen44, Danny McCoy
FFfanaticx, Mike Cannon
danizduhman, Nessa Holt
exps hog, Sam Marquez
rustoria, Mary Connell
gawz_one, Delinda Deline
Acc10422, Piper Nielsen
Danny12, Mitch
Wardeathfun, Jillian Deline
djnivek2007, Polly
mylastrequest, Kathy Berson
Rozalia, Luis Perez (RIP)


Signed for the League of Small Superpowers

LoSS Triumvirate
Hunterman1043
Legion-X
Drugsup

Junior - Minister of Internal Affairs
Moufassa - Minister of Foreign Affairs
Co God Ben - Minister of Defense
Neuronia - Minister of Finance

LoSS Senate
Arkarian
Nhoj
Oh and there are some cookies in the back....
Edited by Hunterman1043, 24 November 2009 - 10:09 PM.