The following is a public service announcement directed to those nations still maintaining the Illuminati AA. It is meant to enlighten, to illustrate and to :facepalm.
Someday you will be in a new alliance, whether with this nation or with your next. It won't be Illuminati though, because Illuminati now has no chance at survival. Thanks to the fearless determination of Terry Howard, your lone voice and leader, peace talks are now closed.
When you get to this new alliance, I'd like to you keep the following free information in mind if you are ever in a war started due to your alliance leaders' betrayal of their allies that is overwhelmingly supported by clear evidence, in which you have been decimated to less than 10% of your pre-war strength in two weeks. If your leader exhibits any of these traits or tactics, you'll know it is time to surrender.

5 Things to Avoid When Negotiating Peace
1. When presented with reasonable terms, do not reject them sarcastically and immediately make counter demands.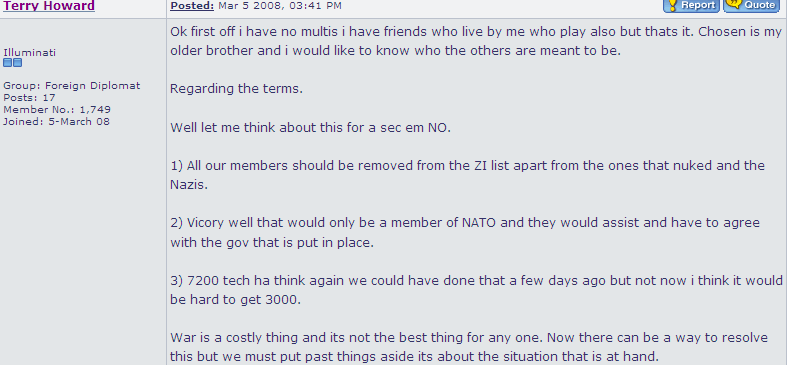 2. When the opposing side points out that you are not in a position of power, do not insult them and the entire process. Remember, you are being given an opportunity to survive here, you should be grateful and patient. Also, learn the definition and proper role of a Viceroy.

3. Try not to make a point of telling the other side that you advised a member on a zi list to go into peace mode to avoid attack. Try also to avoid insulting all of your opponents in one sentence.
4. Its probably not a good idea to blame the other side for a stall in negotiations just because they pointed out the error of your line of thinking. It is also a bad idea to take cheap shoots.

5. Finally, while negotiations are in place, it is considered bad etiquette to accuse the other side of spying when you are well aware that information was obtained due to your own error. Then try not to repeat #4 several times in one post.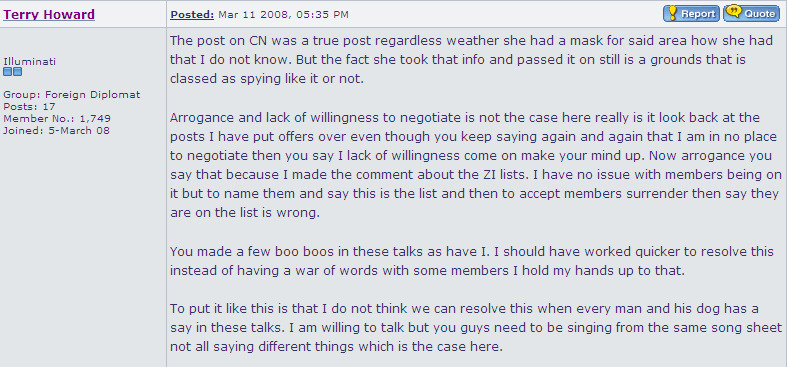 Terry, stop blaming everyone else you can think of and realize that there is no one to blame for the war, the failure of peace talks and the inevitable destruction of Illuminati than yourself.
Illuminati members not on the ZI list are still free to surrender. Don't let Illuminati become the next GOONS or FAN. Do you really want to be like them? The failures of Howard need not spell the death of your nation or its relevance.
Also, huge props to Cable77 for his huge hearted attempt to broker peace. With any reasonable person you would have been successful. But there's no reasoning with insane.